Residential relocations can be quite challenging and time consuming, especially if they are not planned correctly. You can spare yourself the hassle from going through a laborious and demanding home removal in London by hiring us. We are seasoned and fully licensed man and van contractors, and we have the necessary tools and expertise to help you go through a quickly and easy domestic relocation.
Well-trained and hard-working team of movers in London
At Hire Man with Van London, we believe that a company is only as good as the competence of its employees, and this is why we have carefully vetted every single one of our packers, carriers and drivers. We have equipped our movers with top of the line lifting machined and packing supplies. We use only the best shielding products because the safety of your belongings is of paramount importance to us. We also sell protective materials, and the best thing is that we will deliver them to you for free. After all, it is not by chance that we are credited for providing the most comprehensive London man with van services.
Round the clock availability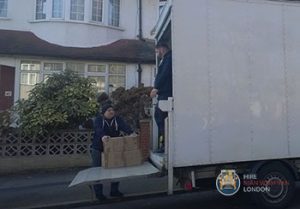 The scale of your home removal in London will not be an issue. Throughout the years, we have worked on numerous domestic man and van projects in London and we have managed to complete them without any complications and costly delays. We work with a flexible schedule, which means that you can book us at a day and time that best suits you and even on a short notice. Keep in mind that if necessary, we will work after traditional work hours in order to complete your move. You can learn more about our man with van services in London by exploring our website or contacting our friendly customer consultants.
We are based in London, the capital of England. It is one of the most famous and visited cities in the world. According to the latest census, London has a population of about 14 million people (metropolitan area included). The city is regarded as a global financial, cultural and touristic centre. Numerous internationally renowned placed of interest such as Buckingham Palace, London Eye, British Museum, Kew Gardens, Bridge Tower and more are situated in the English capita.