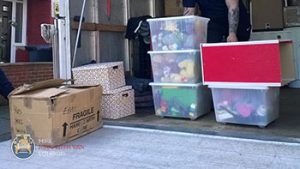 At Hire Man with Van London we are dedicated to providing you with a solution to every little detail of your upcoming relocation in the capital. When you opt for our man and van service in London, you will not only get a vehicle and a couple of movers to haul your boxes on board and then drive them to the assigned location. You are going to receive the full treatment, which means you can choose from a wealth of additional services that are going to make your life easier and your move – smoother. The packing and storage offers in London that we are able to make to you are a clear indication of that.
Packing for your move done right
Packing is a very important part of the process of moving. It needs to be done with the proper tools, durable materials and by using methods that are going to guarantee the safety of your goods while on the road. Thankfully, all those things and more can easily be obtained if you call us to handle the job for you. No matter whether you need someone to do the whole packing or you just need quality supplies delivered, you can count on our man with a van in London.
Storage options that are not to be missed
The same amount of professionalism and care for the detail are to be expected from our top of the shelf storage service in London too. Our facilities can easily be accessed from any point in the city, they are fully secured and come with no minimal contract period attached to the deal.
Book our packing and storage solutions now and make your relocation a hundred percent stress-free endeavour.
London is one of the largest and most important cities in the world. The English capital has population of well over 8 million. It is divided by the River Thames into North and South London, and is administratively further divided into 32 areas called boroughs. Chelsea, Greenwich, Camden and Kingston are the names of some of the best known boroughs of London, but of course there are many other nice locations here in the capital too.
Meta: Fully licensed and equipped packing and storage solutions in London coming from Hire Man with Van London. Low prices and a guarantee for quality.