Almost all homes have that one room which is used mainly for the storage of all sorts of junk. Old newspapers, Christmas gifts that you don't like and various random knickknacks which you simply do not know where to put or how to use. For most households, their messy room is not really a problem. In fact, some believe that they help them maintain the rest of their house clean and organised. The problem comes when these same people decide to move home. This is when they have no other choice but to face one of their biggest fears. Namely, to put some order into this messy part of their house.
If you can relate to that and you are about to move home in the near future, do not panic. We will help you to breeze through this unpleasant task with our simple and easy three-step guide:
Go through all of the items in the room;
Get rid of the things you don't need;
Pack the rest and move it to your new house;
Clear the mess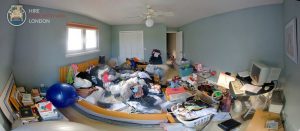 This is the most tedious part of the process and, unfortunately, there is no way around it. To successfully declutter your messy "storage" room, you must come up with a smart strategy and a good plan of action. One of the best ways to handle this situation is by dividing the items you find there into three different groups – Keep, Donate/Give Away/Sell and Through Away.
That, however, sounds easier than it is in reality. You will probably be tempted to keep far more items that you actually need for a number of unpractical reasons. But you must resist that urge. For instance, if have a big surfboard that you used when you were younger, do not cling to it thinking that one day you may decide to jump back on it again. Also, avoid keeping items that have a meaningless sentimental value. The socks which you wore on your first concert or the box in which your best friend used to pack your birthday present – these items do not make a good memento and you should not bother packing them at all.
If some of the items which you do need are in a good condition you can donate them to those in need, especially when it comes to clothes, furniture, books, blankets and etc. Others you can give to friends and relatives or you can just try to sell them.
The possessions which you view as a junk should be thrown away. If you have too many such items or if they are very heavy and bulky, consider hiring an insured man and van company that also offers eco-friendly rubbish collection and disposal services in London. In that way, your waste will go to a special designated site or it will be recycled.
Pack what's left
Use bubble wrap and packing paper to pack the items you want to keep. Put them in moving boxes and label each box. Do that and you will be ready to start your new life in your new home without having to drag a pile of junk with you.