Minimalism has become a very popular lifestyle practice. Minimalism can be defined as the art of letting go and reducing material possessions, enabling you to focus on what's really important. Having less stuff has obvious benefits, but if you are moving soon, you can find out how minimalist principles can benefit you during this exhausting and often hectic process. We bring you some of the best advantages of moving as a minimalist.
Moving is cheaper
When you have a lot of items to move, you have to ask for help. Your friends or family members can help you out but in most cases, you will have to rent a van or hire a mover, which often comes with a high price tag. Sometimes, you will have to store some stuff and storing in London can cost like actual rent. Now ask yourself this:
Do you really need to store all that stuff?
Do you really need all that stuff in the first place?
Can you afford to move every item you own?
Do you have any possessions which you have not used for a long time?
Therefore, a minimalist lifestyle means you won't need a storage unit or help of pros, which might save you a lot of money.
Fewer items mean more extra space
If you have tons of stuff you don't even use or need, you will need a lot of space to fit them in. So, you will need a bigger house or apartment. This is a waste of space and money. As a minimalist, you can move into a smaller place and save tons of money on rent.
Less stress
Moving is notorious for being one of the most stressful experiences in one's life. But it doesn't have to be, as long as you are moving only basic stuff with you. As a minimalist, you will save on packing supplies, the time needed to pack, move, load, unload, etc. There is less stress because you don't have to think about all those material possessions but can focus on the actual experience and what it might bring you.
How to adopt minimalism practices?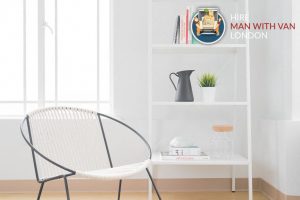 There are numerous benefits of minimalist living and moving. We all know that living with less stuff saves you money. You buy only what you really need, leaving more cash in your pockets. Moving with less stuff is quicker, less stressful and cheaper. So the question is: How to adopt those practices? Here's how:
Sort your belongings – create four piles (keep, toss, sell, donate)
Organise your furniture – make arrangements for moving large pieces of furniture you will keep. Sell furniture you no longer want.
Declutter – this means getting rid of everything you haven't used for a year, including clothes, kitchen utensils, makeup, etc.
Don't waste time – start early, start today. Create a weekly plan so you can start decluttering room by room.
Be practical – sometimes we get emotionally attached to objects, especially presents we never use (like that mug you got for your birthday 10 years ago). Don't feel guilty tossing it or donating it. You're being practical, not insensitive.
Now that you have decluttered, got rid of unnecessary items and packed essentials, you can move with the help of cost-efficient small removals in London. Once you settle into your new place, you will start to realise the true benefits of minimalist practices.