Are you getting ready to move into a new home? One of the most important things that you would want to make sure of is that your furniture and appliances are safe during transportation. Naturally, there is no universal formula for that but still, you can take a number of precautions so that you will be fairly certain you will achieve the desired results without too much hassle or stress.
Packing furniture and appliances the stress-free way
The proper packing procedures are hard to achieve on your own, but if you come prepared with the proper supplies and some knowhow acquired beforehand, you should not have a problem. Here are a few tips about packing expensive furniture and appliances that you are going to find invaluable on your quest for safety during transportation:
Dismantle those items that allow it – this will allow for putting them in boxes easier and will also make them much less strenuous to handle while being loaded on the van, driven to the assigned location, unloaded and arranged at their new place.
Purchase a little bit more packing supplies – wrapping, boxes – than you expect to need. Thus you will avoid running out of something vital in the middle of the process of packing.
Use durable, double-walled boxes and higher-grade wrapping paper and bubble wrap, so that you can increase the security of your goods while on the road.
Pack an item at a time.
The help you get is important
Hiring appropriate moving technicians to help you with the relocation of your goods is going to make the difference. If you are willing to find the most reliable furniture removals in London out there, you should not have much of a problem. All you need to do is a little bit of research and you will come across a highly rated, affordable service that covers your requirements fully.
Timing is of the essence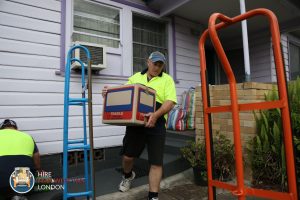 The whole job is likely to take up more of your time than you might expect so come prepared for that. You should leave enough days separating the packing of your goods from their transportation in order to be able to better deal with unexpected circumstances. In any case, you should not postpone it to the last second.
Another very important thing that you should do is to make sure that all hallways, staircases and the elevator approaches in your building a clear, so that while your movers or yourself (should you decide to do the relocation on your own) can safely handle the boxes. This is the best way to ensure no damage is sustained by your items, and you are safe from harm too. Note that most professional moving contractors will retain the right to refuse service is the pathways in the building are not clear and there is no parking space arranged and reserved for the van near the entrance. These are things people rarely think of, but in reality, they are pretty important, so deal with them in due time.