In case you are moving home at some point in the near future, it is a universal truth well known that there are quite a few things that you need to take care of. You need to decide what to do with all your possessions, including pieces of old furniture that you own. Do you want them to come to you to the new place, or do they have to go? The many questions that you have to decide on can complicate your life in a manner that can be described as unnecessary, especially considering all the stress and strain that is usually being associated with domestic removals. So here are some things that are going to make your life easier.
In case the furniture cannot be used anymore
When one lives in an apartment or a house for a long time, it often happens that they accumulate a number of personal assets – from furniture to decoration to souvenirs that no one looks at for a really long time. In terms of furniture most often than ever it happens that the case goes for pieces that are broken down or unusable for another reason. We are talking, of course, about items such as:
Sofas
Wardrobes
Tables
Chairs
Cabinets
If you cannot move those without risking damage to either the movers or the objects themselves, you need to decide how you are going to deal with the problem at hand. Most professional domestic movers in London can actually deal with such a challenge, but if the item in question is too broken down to be safely moved, it might be a good idea to get rid of it. Recycling is always the best course to go, but there are other options such as putting it for sale. One man's garbage is another man's treasure, as the saying goes.
Restore old pieces first
If you are adamant about getting your old sofa, table, or wardrobe with you to the new place of residence that you have chosen, you can try restoring it – first for the purpose of saving money, and them because it bears some sentimental value to you. Old pieces of furniture can get a new life by cleaning or repairing. Professional sanitation contractors or handymen can assist you in the process, and especially if you can spare the time to work with such specialists, it can prove moneywise a good thing to do.
And for those with sentimental value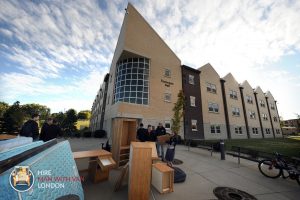 No matter how old or dilapidated piece of furniture can be, sometimes one simply does not one to part with it. If that is the case with you, we recommend that you contact your moving company of choice for tips on how you can transport it to your new address without unwanted consequences. In certain situations, you may have to pay more in order to make everything happen, but we are sure it will be worth it, especially if you a0re adamant that the objects in question need to stay with you.
Caption: Old furniture is sometimes hard to move from one place to another