Even though the best way to enjoy a is to have enough time to carefully plan and prepare for it – specialists suggest at least a couple of months – the reality is that often we need to move on a much tighter schedule. This adds up to the overall stress and strain that domestic relocations are notorious for.
Why you should focus on the packing
If you have to move out of your current place in a short while, you need to prioritise the tasks that are to be taken care of so that you do not miss something really important. Packing should definitely be on top of your to-do list for several reasons:
Properly done, it can guarantee that your goods will safely arrive at their new destination without damage
Packing in a conscious and efficient way can save you money off the whole removal
It takes more time, energy and skills than the majority of other tasks related to your relocation, e.g. it deserves your full attention
Trust your movers
If time is really pressing you and there is no way that you can spare enough hours to actually put all of your goods securely in boxes, you can always set aside a little cash and ask your man and van company of choice to deliver to you a convenient packing service in London. There is hardly a respectable moving contractor in the capital that will not be able to help you with this task, and you will have the chance not to worry about the security of your goods while on the road because the job will be handled by professionals with the relevant skills and tools at hand.
Where you get your supplies matter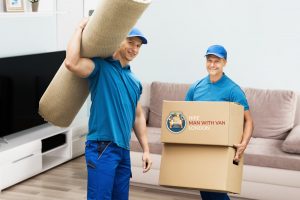 You may be surprised how many options you have when it comes to packing supplies. You can purchase boxes and other packing materials second-hand, or brand new. There is the possibility, instead of opting for the traditional cardboard removal boxes, to rent plastic crates, etc. If the purpose is to save as much time as possible, you cannot waste a minute wondering what the best choice is. Rushing, however, may result in making a hasty, wrong decision which will compromise the safety of your goods which is again something that you cannot afford. So, turning to your movers for packing supplies delivery may be the wisest thing to do. Even if, on a purely theoretical level, you can find a better deal somewhere, the difference will not be worth the risk.
Finally, get down to work immediately. Keep careful track of the items that you have already packed and the ones that you are still to take care of. The best strategy is, of course, to work a room at a time, which will also have a psychological benefit. You will be more unlikely to feel overwhelmed and lost if you approach the task in this fashion.
Moving on a short notice is tricky but with these packing tips, you will not have to go through too much hassle.