The moving dolly is one of the most important and practical pieces of equipment which you can use during a relocation. It is not very difficult to use, it is easy to find and it can save you a great deal of time and money and protect you from injuries. Therefore, if you are planning a DIY move, make sure you get yourself a moving dolly.
Types of moving dollies
If you still have no idea what a moving dolly is we will quickly clear that out for you. This kind of moving equipment is basically a small platform that has wheels attached to it. It is very simple in terms of its structure and functionality but it is an excellent tool which you can use whenever you need to move big and heavy items such as appliances, furniture, etc. There are three main types of moving dollies:
Appliance dollies – They can hold the weight even of your largest and bulkiest domestic appliances, including fridges, dishwashers, ovens and more. This type of dollies tends to have wheels that are covered in rubber and rub rails which offer extra protection for your floors and the appliances that are being moved. Appliance dollies have a standard capacity of nearly 320kg and they have two wheels.
Furniture dollies – Similar to appliance dollies, these ones can also withstand the weight of heavy items, particularly furniture pieces. However, in most of the cases, they have four wheels instead of just two. These dollies have an impressive loading capacity of 450kg and will enable you to move even a massive piano with just a push. If you decide to opt for a secure furniture removal in London, you will notice that movers will rely heavily on this piece of equipment.
Utility dollies – With a capacity of about 270kg, this is the smallest type of moving dolly you can find on the modern market. It stands in an upright position and thanks to its rubber tyres, you can use it inside the house without having to worry that you will scratch your floors. You can use this piece of equipment for a wide range of items that vary from moving boxes, small furniture pieces, etc.
It is best if you have all three of these moving dollies at your disposal on your relocation day. It is estimated that they can reduce the van loading time by 50%. Plus, if you rely on them you will be less likely to strain your back, pull a muscle or damage your possessions and floors.
How to use a moving dolly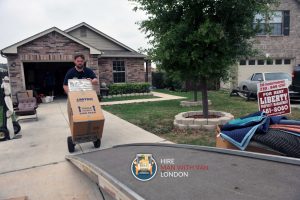 Be careful when you load the dolly. If you plan to stack several items on it, put the heaviest and non-fragile ones at the bottom. Also, do not stack too many goods on the dolly because that may block your view. Secure your possessions with straps. When moving furniture pieces and appliances, wrap them in covers or blankets so that they don't get accidentally scratched when you move them. Clear the path to the moving vehicle and if you need to use the dolly up or down a staircase, have someone to give you a hand.
Where can you find moving dollies?
Rent a dolly from your local moving company. You do not need to buy one because it is not something which you are likely to use on a regular basis.