Desktop computers continue to have a few key advantages over laptops. They often offer more power, fewer limitations, a bigger screen and flexible pricing. Plus, home computer parts are usually not as hard to find or not as expensive as those for laptops. And yet, desktops are not very portable which is why they can be a pain to pack and to move during a house relocation. That is because, in order to move them, you will first need to:
Make copies of all of your files;
Disconnect and disassemble it;
Find a secure way to transport it;
Therefore, if you have a desktop computer to move, do not waste any time and get to work so that you can move house without a delay.
Back up your files
We do not doubt your packing skills but computers are sensitive machines and the slightest discomfort that they experience may lead to the loss of the information which you store on them. So, you must take the time to back up all of your files. You can upload your information on the cloud or on an external hard drive just in case the moving van goes through a bumpy road, for instance.
Provide protection from extreme temperatures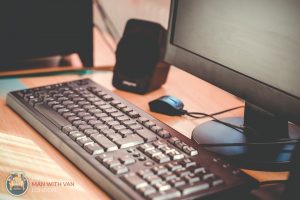 One sure way you are going to experience trouble with your desktop computer after you unpack it is if you expose it to extreme temperature fluctuations during your house move. To prevent that from happening, you can wrap the box in which you have packed the computer with blankets if the weather outside is cold. If you are moving in the scorching heat of the summer, avoid exposing the home computer to direct sunlight. Ultimately, you can hire a temperature-controlled transit van with which you can move all of your possessions.
Use original box
There is a good reason why upon buying a desktop computer, you are advised to keep its original box. Apart from being a necessary requirement if you want to have a valid warranty, it will also help you move the device safely. Manufacturers know how to pack their products and their boxes usually come with extra padding and protection – something a regular cardboard box cannot offer you.
Take some photos before you take it apart
Even if you are not planning on fully disassembling your desktop, take a few photos of it. That will help you to quickly set it up once you have relocated to your new home. Another thing you can do if you are not a particularly tech-savvy person is to label each cord so that you know where it goes.
No insurance – no deal
If you want to use professional home removals in London, check whether the company is fully insured before you hire it. Also, ask specifically whether the insurance will cover your home computer. If it doesn't, you should find a different moving company or to insure your desktop before loading it into the moving van. In that way, if there are any damages on the device after the move, they will be fully covered.