Technology has made its ways to nearly every aspect of our everyday lives. From shopping and exercising to communication and planning a home move. Yes, you may think that the removals industry has not really been affected by the rise of technology but that is not actually the case. We can think of five different way in which technological advancement has transformed this industry and those include:
Safer moving vehicles
More informed clients
An increasing number of scams
Easier booking options
Building a brand has turned into a must
Secure transit vehicles
These days, every self-respected moving business has a versatile armada of vans and trucks that are equipped with GPS tracking systems, air-ride suspension, automated van ramps and many other features that make the loading, unloading and transit stages of a relocation not only faster but also safer. Even if you all you need is to use a professional small removals service in London, your possessions will still be transported with a state-of-the-art vehicle.
Clients are more informed
While in the past, people used to rely on word-to-mouth recommendations from their friends, colleagues, neighbours or relatives when looking for a moving company, these days they prefer to use the power of the Internet. Most reliable and established removals companies have a strong online presence and finding informative customer reviews on the quality of their services is quite easy. Within only a few clicks, you can learn everything you need to know about the team of movers you are planning to hire. What is more, clients can find the answers to many of their relocation-related questions on the web which makes them harder to trick.
But scams are still on the rise
Although people can quickly get a lot of information about their moving company online, they often forget that not everything they read on the Internet is true. Scammers too can make a website and post anything they want on it. That is why you should always be careful with companies that have no client reviews or only get incredibly positive feedback from their customers.
Booking movers is faster and more convenient
Thanks to technology, you no longer need to bother yourself with going from one office to another to get a free quote. Most relocation firms can give you a complimentary no-obligation quote via an online booking form on their website. In that way, you can quickly compare quotations and pick the offer that best matches your budget and preferences.
A powerful brand equals a successful business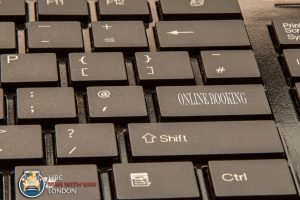 If in the past a successful removals company was one that used top-performance vehicles, modern equipment and highly experienced movers, today not many businesses in the industry stand a chance against the competition if they don't develop a strong brand. Of course, the above-listed things still matter but the image of the firm is the thing that binds everything together and gives it a sense of coherence. This is where social media steps in and lets removals businesses add more layers to their overall image and create a brand of their own.
What does the future hold for the professional moving industry in the UK and the world in general? Driverless vehicles, AI solutions and maybe even VR innovations – only time will show how technology will continue to transform this field.